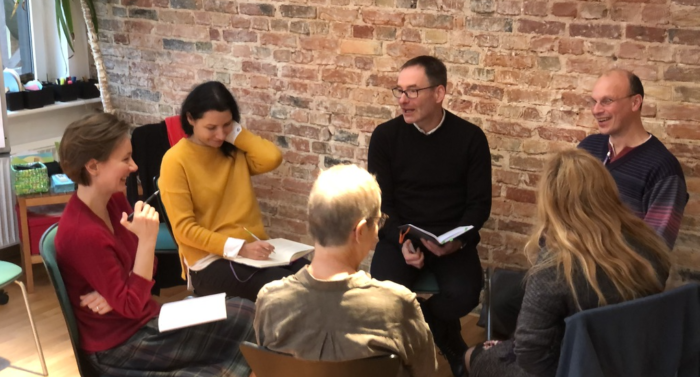 To involve a wider circle of the experts to the dialogue on historical narratives, our partners from inmedio peace consult (Berlin, Germany) have designed a consensus-oriented online-dialogue tool that enables collaborative working on one joint text.
The online-dialogue instrument proposes to provide expert feedback and comments for the narratives on the following topics:
Holodomor/the Great Famine of the 1930s and its impact on the idea of Ukrainian independence;
1991 – different perceptions on the dissolution of the Soviet Union and Ukrainian independence;
attempts and failures of cooperation with NATO; and
competing narratives on Euromaidan;
the approaches to conflict resolution in the Crimea and Donbas.
It is the narratives that were selected by the Ukrainian, German and Russian experts during face-to-face meetings within the project "Joint History Textbook-2090" that resulted in the publication "Gaps and Overlaps: Navigating through contested German-Russian-Ukrainian narratives".
Unlike the usual public online forums (that often lead to provocative statements and hate speech), this tool provides a confidential space for constructive dialogue on a joint text. At the same time, it prevents one from ending up with lots of contradictory comments without any fruitful agreement.
This is achieved by a ranking system of consent regarding each specific change request: (non-)consent can be expressed by every user by choosing between four different levels of agreement. An algorithm automatically inserts the option with the "highest" consensus amongst the users of the online tool into the main text.
To get your personal registration code, please send an email, identifying your institutional affiliation, expertise, previous experience with related dialogues and/or other references to admin@contested-narratives-dialogue.org.
Based on the contributions by new dialogue-partners, we hope to publish a revised version in the second half of 2020.
We would like to seize the opportunity to receive feedback and comments from a wider circle of experts than those who participated in face-to-face meetings.
About the project
The project "Joint History Textbook – 2090" was designed and implemented by the Centre of Public Initiatives "Ideas for Change" (Kyiv), inmedio peace consult gGmbH (Berlin) and the Institute for Law and Public Policy, ILPP (Moscow) and funded by the German Federal Foreign Office.